Buildoffsite Property Assurance Scheme (BOPAS)
BOPAS has been jointly developed by Buildoffsite, The Royal Institution of Chartered Surveyors (RICS), Lloyd's Register and BLP Insurance; in consultation with the Council of Mortgage Lenders (CML) and the Building Societies Association (BSA). It provides assurance to the lending community that innovatively constructed properties, against which they may be lending, will be sufficiently durable as to be readily mortgageable for a minimum of 60 years.
Although there are other lenders involved in the process the following have all made a significant contribution to developing the methodology:
Lloyds TSB Group (including HBOS)
Nationwide
RBS
Santander
---
Lenders take into account the views of other professionals as part of their decision as to whether to lend on properties which are built with modern, innovative methods. BOPAS, which was developed with lender input, can assist lenders by providing assurance to lenders and other professionals, about non-traditionally constructed properties which lenders may be asked to lend on.
What the Assurance Scheme comprises
A durability and maintenance assessment (carried out by BLP)
A process accreditation
A web enabled database comprising details of assessed building systems, registered sites and registered/warranted properties
Articles
Modern Methods of Construction - Backing Innovation: The benefits of offsite manufacture and modern methods of construction are driving efforts to overcome the challenges, report David Osrin and Paul Wornell - RICS Building Surveying Journal, May/June 2015
For more information please contact:
Jeff Maxted
BLP Director of Technical Consultancy
T: 020 7204 2466
E: jeff.maxted@blpinsurance.com
Samantha Ferneley
BLP Business Development Executive
T: 07979 701324
E: samantha.ferneley@blpinsurance.com
Alternatively, visit the BOPAS website: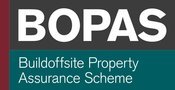 BOPAS accreditation enables the ready identification of new methods of construction and the assurance of their structural integrity through access to the BOPAS website, thus facilitating confident advice and accurate property valuations.