Home Performance Labelling Scheme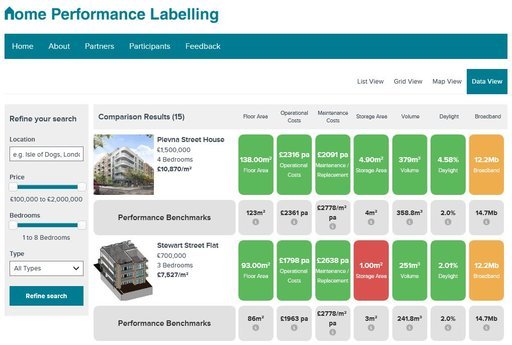 There is an increasing requirement to inform consumers in terms of better quality and value in newly-built homes, and to stimulate measures to improve the energy performance of existing ones. The Housing Forum has taken up the issue and in conjunction with BLP and HTA Design LLP is promoting the Home Performance Labelling as a methodology for delivering this information to consumers.
The team has set up a joint venture to build a fully functioning comparison website capable of comparing new and existing homes against benchmark performance and ranking them according to price, net floor area, price per square metre/foot, storage area volume, average daylight level, estimated annual energy costs, estimated annual maintenance costs and broadband speed.
All metrics are derived from house types submitted by project collaborators and assessed using BIM and BLP's Butterfly tool.
Anyone with an interest in participating should contact Jeff Maxted, Director of Technical Consultancy at BLP, on 020 7204 2466 or emailing jeff.maxted@blpinsurance.com.
Visit the Home Performance Labelling website